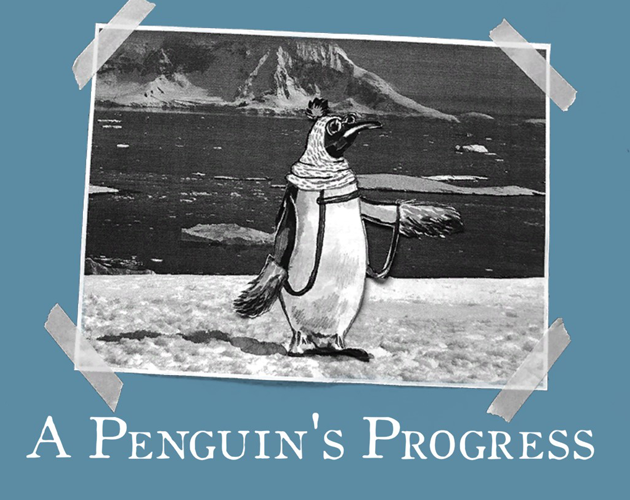 A Penguin's Progress
The theme for the Kindred Community Jam #5 has been announced, and it's a tie: "Penguin Party" and "The Fire Mustn't Go Out." Officially we're asked to choose one, but I think I'll combine them and attempt to do both.
Here's my general concept:
Interpreting "party" to mean something like "expedition," and taking inspiration from the migration of the emperor penguins, I'm thinking of doing a short of Ernest Shackleton-style South Pole expedition game, but with penguins in place of humans. The "fire" will be metaphorical, within the heart of your intrepid penguin, representing morale, ardor, will to press on.

Here's a pinboard I've started putting together for inspiration.

And it's six days later, and we have a game! Couldn't get everything in there that I'd hoped to, but I hope you enjoy it.
I had considered using an interactive fiction engine like Ink, and wasted a day or two playing with that, but ended up rolling my own. The engine is limited but fairly flexible and extensible, and allows content to be created entirely in the editor without any code. A fun challenge! (Note: I added the windows native build morning after submission, in case anyone prefers that to playing in browser.)

credits:
game design, code, writing: tony zito
illustrations: meg cora peterson
Quentin by @get_studio
Old Style by HPLHS Prop Fonts
Music & Sounds:
All CC attribution licensed from freesound.org:
Somber Viola by Bigmanjoe: https://freesound.org/people/bigmanjoe/sounds/437033/
wind arctic cold by Cobratronik https://freesound.org/people/cobratronik/sounds/117136/
sweeping sad strings by esistnichtsoernst https://freesound.org/people/esistnichtsoernst/sounds/414442/

duduk with orchestra by Joshua Empyre https://freesound.org/people/joshuaempyre/sounds/371059/

Download
Click download now to get access to the following files:
WIndows x86 build.zip
49 MB
Comments
Log in with itch.io to leave a comment.
The music is awesome and the style is polished! Love it :D
i love the music and art!